Borders business alert over fake £20 note spate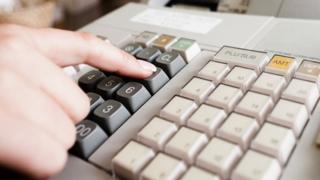 Businesses in the Borders have been put on alert after a spate of incidents where counterfeit currency has been used as payment.
It has happened more than 10 times since 1 June at premises in Hawick, Jedburgh and Galashiels.
Police said the notes being used had a "high quality and legitimate" appearance.
The forgeries are copies of £20 notes issued by Bank of Ireland and Bank of Ulster.
The Bank of Ireland serial numbers are CD975822, CB737906 and CB977561.
The Bank of Ulster serial number is L9169401.
'Extra vigilant'
Police have advised shops to check any £20 notes from the two banks carefully.
Det Con Callum Peoples said: "The notes that have been passed in recent incidents have been of very good quality.
"I'm urging the members of the public and local business owners to be extra vigilant and to check any paper notes that they receive to ensure that they are genuine.
"If anyone suspects they have been handed or found a fake bank note, they should retain it and contact the police immediately."