Man seriously hurt in disturbance during Dumfries festival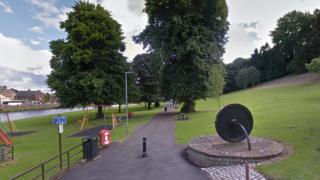 A man has been seriously injured when violence flared during a town's annual summer celebrations.
The incident happened around the time of the annual Guid Nychburris parade in Dumfries on Saturday.
A 21-year-old man suffered bruising to his face and a cut to his back in the attack in the Mill Green area at about 17:40.
Police said the incident involved two groups of youths, and two other people suffered minor injuries.
'Very busy'
A statement said that a "large number" of people had been involved in the fracas.
Det Con Paul Steele said: "The town was very busy around this time with the Guid Nychburris celebrations in full swing.
"We want to hear from anyone who may have witnessed what was a serious disturbance on the Mill Green at this time involving up to eight to 10 youths, all of whom appeared to be in their mid-teens and were wearing casual sports type clothing."
Anyone with information has been asked to contact police.