Borders Book Festival breaks attendance records in Melrose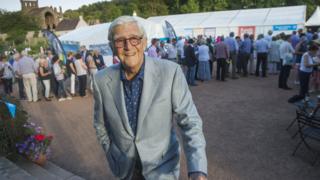 The Borders Book Festival in Melrose broke previous records for ticket sales and attendances this year.
More than 30,000 people attended the event between 15 and 18 June - an increase of 21% on figures in 2016.
Organisers said it would be an understatement to describe it as their "most successful yet".
They also staged a record number of sold out events including talks by John Cleese, Judy Murray, Michael Parkinson and Carol Klein.
Festival director Alistair Moffat said: "We're delighted that this has been a record-breaking festival.
"But the most important thing is that, with two days of wonderful weather, people were able to enjoy being outside in the sunshine, eating and drinking, and talking to each other; as well as being entertained and enthralled by our stellar line-up of speakers."
Next year's event is planned for 14 to 17 June.