Yoghurt tycoon helps Bladnoch Distillery resume production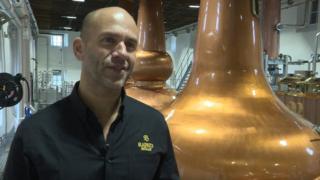 Scotland's most southerly whisky distillery - and one of its oldest - is coming back into production in time to celebrate its 200th anniversary.
Bladnoch Distillery near Wigtown was bought out of administration by Australian entrepreneur David Prior.
He made a fortune out of organic yoghurt and decided to invest about £25m of it in the facility.
It is hoped it will eventually lead to production of more than a million litres a year from the site.
Mr Prior has been back in Scotland for the first time since refurbishment started.
It has cost £5m on top of the near £20m spent acquiring the run-down facility and, importantly, the valuable casks of ageing malt in its large complex of bonded warehouses.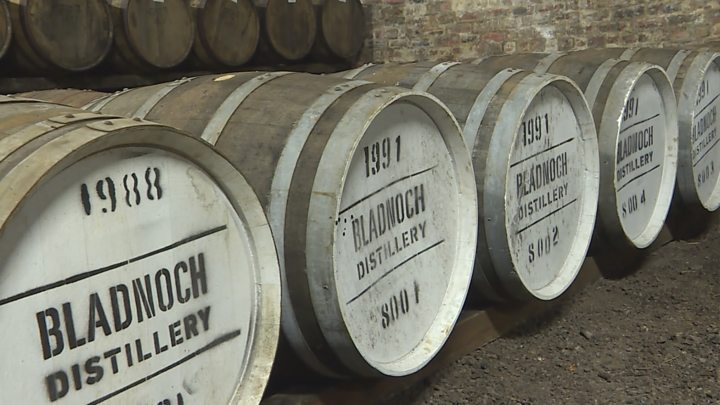 "I could see that there was something there but my wife walked through and she thought that I'd absolutely gone crazy," said Mr Prior.
"She thought there were more issues than opportunities."
Back in 2015, after years of under-investment, Bladnoch's potential was not universally apparent.
However, Mr Prior saw scope to combine hard-headed business with the romance of a product close to his heart.
"The Scotch whisky category is a very great opportunity from a business perspective but it is also a huge passion of mine," he said.
"It's something that I have been involved in since I was 18 years old, my father and I used to have a drink together at the end of every week and download and share stories about the week.
"So I have grown up in a Scotch-drinking household."
He said the Bladnoch site was "steeped in history" and something he had fallen in love with.
"This was a significant undertaking - I think lots of people thought we were a bit crazy to come in and take the old distillery on," he said.
"It is now back in production and we are so excited."
What he required was expertise on the ground and he found it in master distiller Ian MacMillan who supervised the rebuild.
"There is no bigger challenge than reviving a distillery which has almost faded out of being," said Mr MacMillan.
"The opportunity to come here and work with David was just too big an opportunity for me to miss."
The first distillation is under way but cannot be called whisky for at least three years.
At that time, what can the connoisseur expect?
"It is malty, it has got nice grassy notes - it is very sweet, it has got little touches of honey and sweetness right through it," said Mr MacMillan.
"So it is quite typical of a Lowland whisky with a little bit more character."
The Australian yoghurt millionaire is an unlikely saviour for a facility economically important to rural Galloway.
So far nine jobs have been created on site and more will follow with the development of a visitor centre and the possible need for extra shifts to meet a production target of one-and-a-half million litres a year.
He may be largely an absentee owner, but Mr Prior said his actions and hard cash underlined his commitment to the local community.
"They can see we are not just ticking it over, we have really come in and since we've bought it we have transformed the place," he said.
"The vision of the business is to reinvigorate the distillery for the local community and for ourselves of course.
"We have very much got that at our core and I think they have responded to that, they are very welcoming."
Mr MacMillan has selected the oldest malt in stock - from 1988 - to be bottled as a special edition release for Bladnoch's 200th anniversary in October.
Mr Prior will be back for that celebration, to see his distillery in full production, and to continue his education under a master.
"He didn't need much education in how to drink the whisky anyway, that's for sure," said Mr MacMillan.
"I think he can feel a real sense of pride in saving a distillery from virtually disappearing off the face of the distillery map of Scotland."