Hawick jockey Ryan Nichol swaps horses for hearses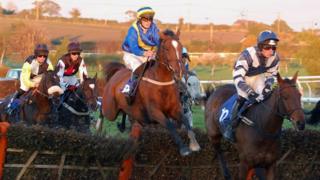 An amateur jockey from the Borders has retired from the sport to take up a new career as a funeral director.
Ryan Nichol, 25, of Hawick, said a winning farewell to racing at Hamilton on Thursday aboard Donnachies Girl.
He then told Racing UK about his plans to leave the sport and pursue a major career change.
"That's it now," he said. "I've been offered a job funeral directoring. It's a little bit of a change but I suppose everything comes to an end doesn't it?"
"It's a little bit different, but I did a bit last summer," he added.
"You can never say you enjoy it, but it's all right.
"I'm getting older now so I have to look to move on and see what happens."
'Very grateful'
The jockey will be working for a fellow former rider in Paul Robson, who had to retire through injury.
He said: "Paul used to ride for Nicky Richards and was a very good jockey in his day, but injuries set him back.
"I'm going to work for him now and it'll be back in Hawick, which will be a big help back home with the parents and family.
"Paul gave me the option to carry on riding, but I thought once that's it, it's it."
He said he had had a good year in racing so it was a "good point" to go out.
He added that he was "very grateful" to Borders trainer Alistair Whillans who gave him his farewell winner.
"I did the complete opposite to what I was told to do, but luckily it worked out," he said.