E. coli advice after Tough Mudder event at Drumlanrig Castle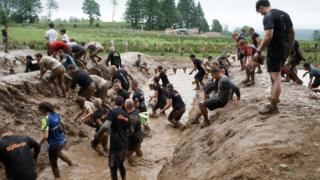 A health board has said it is aware of a small number of E. coli O157 cases across Scotland which appear to be linked to a recent Tough Mudder event.
NHS Dumfries and Galloway said it followed the extreme obstacle race at Drumlanrig Castle on 17 and 18 June.
It said that activities on agricultural land "inevitably" carried a small risk of gastrointestinal infection.
It advised anyone suffering from symptoms such as diarrhoea, vomiting or fever to seek medical advice.
The health board said people would usually notice any symptoms three to four days after they had been infected.
'Speedy recovery'
However, it added they could start up to a fortnight later.
A spokesman for Tough Mudder said safety for participants, volunteers and staff was a its "number one priority".
"Tough Mudder is aware of the situation in Scotland and is working closely with local authorities," he said.
"We are sorry to hear that Tough Mudder participants are unwell and wish them a full and speedy recovery."