Antiques Roadshow rolls into Floors Castle near Kelso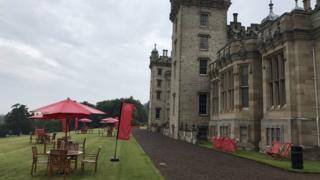 Antiques Roadshow experts have been on hand to provide valuations in the grounds of a Scottish Borders castle.
The BBC series was filming at Floors Castle just outside Kelso.
Doors opened at 09:30 on Thursday and visitors from across the region and beyond flooded in throughout the day to the site.
Presenter Fiona Bruce said that, in many ways, the people were just as important as the pieces that they brought along to be valued.
"I am not an antiques expert so I am not going to be valuing items," she said.
"What I do know about is stories - what is a good story and how do you tell it?
"So much of what you see on the roadshow is about the story behind the item and the story of the owner.
"Our dream combination is great owner, great item, great value."
She added that it was not always about the price attached to the antiques.
"We are never short of people bringing along things that may not necessarily have great monetary value but may shed new light on something we thought we did know about," she said.
"I enjoy that part of the roadshow enormously."