Borders College sewage heating system up for award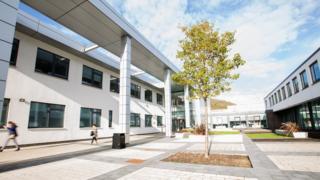 A project which sees waste water from a sewer used to power a heating system on a college campus has been shortlisted for an ecological award.
The SHARC energy recovery system was officially launched at Borders College in Galashiels in 2015.
It provides 95% of the heating on the joint higher and further education campus.
It is one of four contenders in the best newcomer category at the Green Gown Awards.
They recognise "exceptional sustainability initiatives" being undertaken by universities and colleges across the world.
Borders College vice principal Pete Smith said: "This recognition of such an innovative project is great news for the college.
"To be the first in the UK to use this technology meant that we had to have a degree of faith in the project team but now that it's operational, we are seeing the benefits in terms of carbon reduction and cost savings.
"We look to continue a long and successful partnership with SHARC."
Borders College is up against MidKent College, Northumbria University and Southampton Solent University for the award. The winner will be announced in November.