Stricken scallop dredger towed to safety off Eyemouth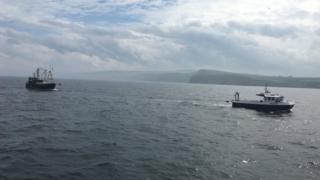 A scallop dredger has been towed to safety after suffering engine failure off the Borders coast.
Eyemouth RNLI lifeboat was called out to the incident at about 14:40 on Thursday.
The Leith-registered scallop dredger, Immanuel IV, and its three crew, had suffered engine failure to the south of Eyemouth.
It was towed back to safety by the dive vessel Oceanic. The lifeboat escorted both vessels back to harbour.