Galashiels factory thieves take leather jacket haul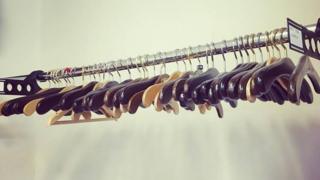 Leather jackets reckoned to be worth about £100,000 have been stolen in a raid at a Galashiels factory.
About 110 new and used jackets - some of them rare and vintage - were taken from Aero Leather Clothing in Huddersfield Street early on Monday.
The company has appealed for information which will help Police Scotland with its inquiries.
In particular, they want to hear if anyone saw anything suspicious in the area at about 02:00 on Monday.
They have also asked anyone who sees one of the company's jackets for sale in an unusual place to contact them.
Managing director Denny Calder said: "This is one hell of a set back for a small business like ours.
"The jackets which were taken amounts to about two weeks of work for us."
Around half of the jackets which were stolen were ready to be shipped out to customers around the world.
Several were original flying jackets which were being repaired and many others were Aero originals from 20 to 30 years ago which had been refurbished in the workshops.