Bottle man lands 50 potential dates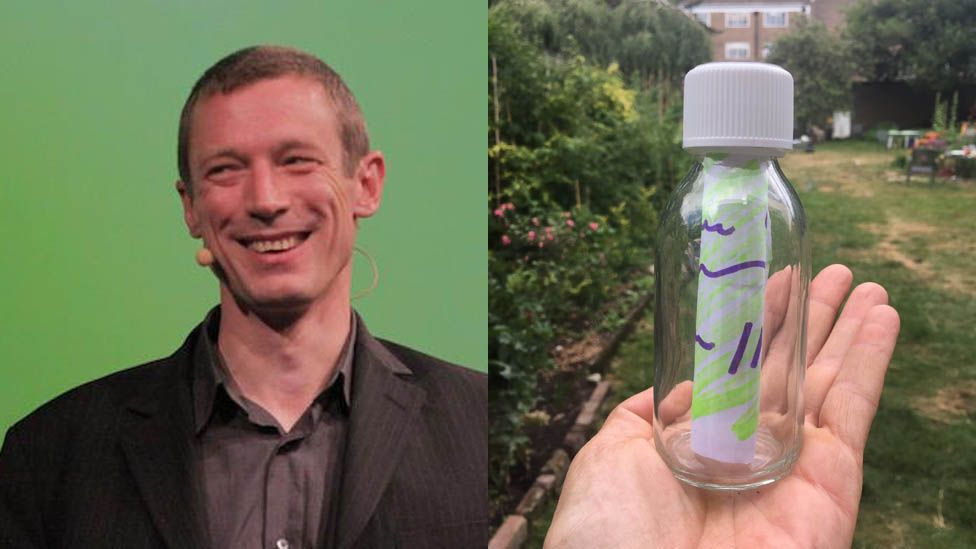 A man who sparked outrage for his efforts to find love by releasing thousands of messages in bottles at beauty spots across the UK has said he now has dozens of potential dates.
Widower Craig Sullivan, who is 49 and originally from North Lanarkshire, set 2,000 bottles adrift last week.
However, his efforts resulted in scorn from some who accused him of littering and polluting the environment.
Mr Sullivan said that his quest had attracted 50 offers of companionship.
He was reported to the Scottish Environment Protection Agency (Sepa) after releasing about 200 of the bottles into the River Cree in Dumfries and Galloway.
Sepa said the bottles had since been removed from the river by locals.
Mr Sullivan, who runs a website consultancy firm in London, said he embarked upon his plan to release the bottles following the death of his wife Julia from breast cancer 18 months ago.
He said he wanted to find someone for companionship and that he had been inspired by The Police song Message in a Bottle.
Writing on his blog, he said: "I decided to do something about it.
"Using any of the normal channels for this sort of thing (dating sites, friends, matchmaking services) seemed clichéd or somehow less elegant, less noble in intentions than my own mind."
He added: "So, armed with maps, tidal tables, a motorhome, 4G data, provisions and a week driving around the UK,  I might just be able to send them to beaches across the world."
One of the spots Mr Sullivan picked for releasing his bottles was the River Cree, near Newton Stewart.
That resulted in an angry message from one resident who wrote to him in response: "Sepa informed of you fly tipping into the river Cree salmon hatchery, your total disregard for our beautiful clean river is palpable. Don't come back to Newton Stewart your [sic] not welcome. Incidentally all bottles recovered from the Cree hatchery."
In a statement, a spokesman for the environment agency said: "Our officers are comfortable that there is no environmental risk to the River Cree as a result of the bottles being released and, following inquiries, understand almost all of the bottles were contained and removed from the river fairly quickly by local residents."
Mr Sullivan embarked on his week-long journey around the UK on 20 July, stopping in Wales and at Hinkley Point before driving on to Scotland.
However, rather than drawing potential partners, his efforts resulted in a backlash, with one woman writing to him: "Hi Craig, I love how romantic your idea is but please reconsider putting all of these into the sea, lots of us spend hours picking up beach litter.
"How about joining a big beach clean, you may pick up a hobby & meet someone there too? We deserve love & clean beaches!
Another person wrote: "Can we get this half-wit arrested, stopped, educated or something? I simply cannot believe he can put this rubbish in the ocean unpunished."
Mr Sullivan told the BBC that he had stopped releasing the bottles as soon as he became aware of the anger they were causing.
He said: "The abuse was not very good. In several instances it got out of hand. It was never my intent to harm the environment. It was more accident, naivety as well as stupidity in the execution.
"There was the fact that they all washed up on the beach in Wales at the same time or got caught in the net at the river in Scotland. It was just my intention to send a wee love bottle with a message to someone I had not yet met."
Mr Sullivan said that he had since received 50 responses from women who were interested in knowing him, including one from Ireland and another from the west coast of Scotland.
He added: "I am genuinely sorry for upsetting people, but I do not regret what I did."
Sepa said it was satisfied that the issue had been resolved and said that it did not intend to pursue any further action against Mr Sullivan.