Drive to cut quad bike deaths on Scottish farms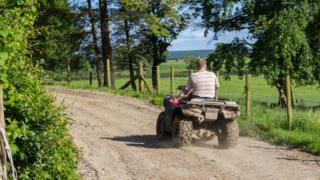 A drive is being launched to try to cut the number of farm deaths in Scotland involving quad bikes.
The issue will be highlighted at Dumfries Agricultural Show this weekend.
Scotland's Rural College (SRUC) will be underlining the importance of wearing a helmet and "other simple rules" on the safe use of all-terrain vehicles.
Dave Roberts of its Barony Campus said there was a danger people could become complacent when using a quad bike.
"Our Be Safe on ATVs initiative will stress that all ATV riders should always wear a suitable helmet when riding a quad bike," he said.
SRUC will highlight its ATV safety initiative immediately after the National Farmers Union Scotland (NFUS) launches its overarching Health and Wellbeing in the Farming Community campaign earlier in the day at the show.
South of Scotland SNP MSP Emma Harper will visit the SRUC stand for the launch of the helmet safety drive.
She has been at the forefront of a campaign to urge farmers to wear helmets to reduce preventable head injuries.
She said: "I am thrilled to see this project moving forward and action being taken by SRUC and NFUS to promote helmet safety on quad bikes - especially as they are two of the most influential organisations within the Scottish agricultural sector."
Apart from the need to wear a helmet, SRUC will be recommending a series of steps to reduce the risks from using ATVs.
These include:
carry out safety checks and maintenance in accordance with the manufacturer's recommendations
secure loads on racks and make sure they are not overloaded, and are evenly balanced
stick to planned routes, where possible, and walk new routes if necessary to check for hidden obstructions, hollows or other hazards
take extra care with trailed or mounted equipment and understand how they affect stability
make sure all riders receive adequate training
SRUC also runs a series of safety training courses at its Barony Campus near Dumfries on the issue.