Jim Clark Rally crash witness recalls 'pandemonium'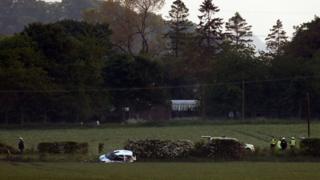 A witness to the crash which claimed three lives at the Jim Clark Rally in 2014 has told an inquiry of the "pandemonium" following the accident.
Brian Bolton was giving evidence to the hearing into the deaths of Iain Provan, Elizabeth Allan and Len Stern.
It also saw a document saying people should not have been be allowed in the area where they were killed.
The set-up plan for the 2014 event said it was highly dangerous, prohibited and should be kept clear.
The ongoing fatal accident inquiry heard further evidence from spectators who witnessed the crash.
Colin Gracey, 49, told the hearing he had been surprised and concerned that there had been no marshals at the spot where the accident occurred.
He then described watching the car involved in the incident.
"It landed on the left side of the road, jack-knifed and that sent it to the east gate, nose down, and landed right towards the field entrance," he said.
"It was very fast, very clear, but almost like slow motion.
"I was absolutely stunned."
He told the inquiry he had no doubt the people struck would have died.
"There was an eerie silence," he said. "The two drivers got out, holding their heads.
"I had three children there and I just moved them away. My partner dialled 999."
Mr Bolton, 46, said he went to the Swinton stage of the rally every year "to see a bit of action, the cars from a distance and cars coming off the bridge".
In previous years, he said, there was never anyone at the bridge, because of prohibition signs.
When asked if there were any such signs in 2014, he said he could not remember, but added: "Everyone knew that this was a dangerous place to go to."
He described seeing the car going sideways and hitting a man in a hi-vis jacket at the side of the road.
"I could not believe what I had seen," he said. "There was pandemonium."
The inquiry at Edinburgh Sheriff Court, which is also examining the death of spectator Joy Robson, 51, at the Snowman Rally near Inverness the previous year, continues.