Richard Cassidy jailed for David Farish murder in Tweedbank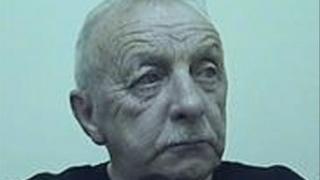 A man who murdered a fellow pensioner because he believed he was a paedophile has been jailed for life.
Richard Cassidy, 70, who stabbed David Farish 14 times and slashed his throat at his home in Tweedbank, was ordered to serve at least 17 years in jail.
At the High Court in Glasgow, Judge Lord Summers described the murder as "a particularly brutal one".
The court heard that the fatal wound went through Mr Farish's heart and he died in minutes.
Defence QC Brian McConnachie said that it was likely that Cassidy would die in prison and added: "Since being in custody, he has suffered a heart attack and a stroke.
"He had never been in trouble in his life before this incident.
"He lived a fulfilling life until what he describes as a moment of madness."
Bloodstained clothes
The court heard former soldier Cassidy used techniques he was taught by special forces in the 1980s to infiltrate terrorist cells in order to befriend Mr Farish, whom he had never met until the day he killed him in his Scottish Borders home.
Cassidy later called the police and confessed what he had done.
However, before doing so, he disposed of his bloodstained clothes and the knife - which has never been found - and tidied up the crime scene.
He never denied killing Mr Cassidy, but claimed it was culpable homicide and not murder.
He told social workers, who compiled a background report on him, that he received training from special forces while he was serving in the army in Northern Ireland in the 1980s.
Cassidy said that he was told how to infiltrate terrorist cells and befriend them.
He had been told 75-year-old Mr Farish had abused a close friend of his when she was a child.
A jury heard how the ex-soldier flipped when Mr Farish told him the police "could not prove anything" after he confronted him in February last year.
Cassidy went on to hand himself in - but said he did not want to be known as a "cold-blooded killer".
First offender Cassidy was convicted of murder following a trial at the High Court in Glasgow.
He had earlier offered a guilty plea to the reduced charge of culpable homicide.
The woman who accused Mr Farish of physically and sexually abusing her gave evidence during the trial.
The 43-year-old had been friends with Cassidy for a number of years and she confided in him what allegedly happened.
She claimed she was regularly preyed upon starting when she was seven.
As well as the sexual accusations, it was alleged Mr Farish once broke his hand having hit her so hard.
The court heard police investigated in 2006, but no charges were brought.
Cassidy showed no emotion as he was led away to begin his sentence.
Det Insp David Pinkney welcomed the jail term given to Cassidy for the "heinous murder".
He said: "Although this sentence will not reverse his cruel actions, I do hope it will bring some measure of resolution for David's family."