Jim Clark Rally fatal crash spot 'notorious' for accidents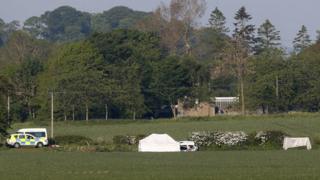 The chief marshal at a rally approved the spot where a fan was standing shortly before three people died in a crash nearby, an inquiry has heard.
Keir Scott said he would have changed position if he had known the area was "notorious" for car accidents.
He said he only later discovered that safety plans banned spectators from the site at the Jim Clark Rally.
Mr Scott was giving evidence at an inquiry into the deaths of Iain Provan, Elizabeth Allan and Len Stern in 2014.
The joint hearing is also examining the death of Joy Robson, 51, at the Snowman Rally in Inverness the previous year.
Mr Scott, from Newcastle, told the inquiry at Edinburgh Sheriff Court he stood behind a taped off area near a humpback bridge at the Swinton stage, thinking it was a good place to take photographs as cars left the ground.
'Saved my life'
He said: "The chief marshal stopped at our point where we were standing behind the tape.
"He said something along the lines of: 'As long as you're standing behind the tape I'm quite happy'.
"I said: 'We're okay to stand here?' and he said: 'Yeah, it's fine'."
Mr Scott said he then found out "not long after the accident" that the entire section was a prohibited area but nobody had known that at the time.
"If I had known the area was notorious for accidents with cars, I would have changed my opinion," he said.
Mr Scott told the hearing that the fact he was taking photographs had saved his life.
He said: "If I hadn't been taking photographs I may not have realised the car was out of control."
The keen rally fan discussed moving position shortly before the accident due to safety concerns, then noticed something "wasn't right" with the oncoming car and ran away before it crashed.
The court was shown footage of the car swerving and then hitting the group of spectators.
Mr Scott said he "froze" after the accident and could see a man screaming "Dad" and someone lying on the floor.
New rules
The 29-year-old called 999 then went to stop the rally, and he became emotional as he described "cowardly running past" the casualties.
He said he had become more involved in marshalling since the accident but claimed changes "pushed through" by the Motor Sports Association (MSA) meant events were "struggling" for marshals.
However, the inquiry was told that registered marshal numbers had actually risen from 6,000 to 10,000.
Mr Scott said spectator and marshal education was key to preventing accidents, adding: "It's talking and attitude that's going to save lives.
"People sitting in an office in London, that's what they are not realising because they are not out there.
"The new rules brought in by the MSA, they are still not going to prevent deaths."
The inquiry continues.