Hundreds of new home sites identified in Scottish Borders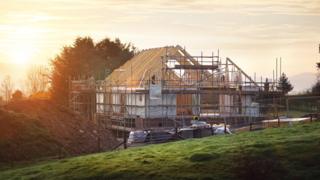 Scottish Borders Council has identified a string of potential sites across the region where hundreds of new homes could be constructed.
A local development plan last year identified a shortfall of more than 900 housing units.
Subsequent planning approvals have seen that requirement reduced significantly to just over 800.
However, new guidance has identified potential for 926 homes allowing "healthy flexibility" to meet the goal.
The breakdown of the proposals includes the following towns and villages:
Ayton - 6 units
Coldstream - 100 units
Reston - 38 units
Galashiels - 50 units
Hawick - 21 units
Kelso - 165 units
Newstead - 6 units
Selkirk - 105 units
Tweedbank - 300 units
Innerleithen - 35 units
Peebles - 100 units
Councillors are being asked to approve the supplementary guidance at a full council meeting on Thursday.