Scottish Borders Council raises school uniform grant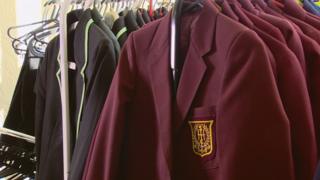 A council highlighted in a BBC investigation as having one of the lowest school clothing grants in Scotland has increased payment levels.
Scottish Borders Council had a maximum grant of £45 - short of a suggested national minimum of £70.
Councillors unanimously approved a report which proposed increasing it by £25.
The local authority will top up payments already made this school year to families receiving the lower level.
A BBC Scotland investigation earlier this month revealed the council was among those paying the lowest amount in Scotland.
Donna Manson, service director for children and young people, said the move was one they had been keen to make for some time.
"We had already set out that this was going to be a strategic priority this year for action with our head teachers," she said.
"When this further information came to light we just felt that, in light of those discussions prior to the summer, it was the right thing to do to follow up on that and make this recommendation."
Child poverty
She added that they were also looking at other measures to address the issue of child poverty in future.
Council leader Shona Haslam said: "I very much welcome the swift action that has been taken to increase this grant.
"As a mum, I know how much it can cost to kit out children for the start of the school term and this increase will benefit the most vulnerable children in our area.
"The fund will be backdated for this school year, so anyone who has already received the lower amount will have it topped up."
Carol Hamilton, SBC's executive member for children and young people, said the council was committed to tackling the issue.
"Work has already been going on with our headteachers to increase the awareness and understanding of child poverty and its impact on educational outcomes," she said.
"That work, to be taken forward over the coming months with school staff and our partners, will consider what more can be done to 'poverty proof' our schools going forward."
The 1980 Education Act stipulates that local authorities must make provision for the clothing of pupils who would otherwise be unable to afford schoolwear.
Councils, rather than the Scottish government, are responsible for deciding the eligibility criteria, the grant amount and application process - but Education Secretary John Swinney has suggested it be at least £70.
The BBC investigation found maximum payments ranged from £110 in West Lothian to £40 in North Ayrshire.
Research by campaign group The Poverty Truth Commission suggested the actual cost of kitting out a child for school was £129.50, even when shopping at supermarkets and bargain stores.