'Absent' southern Scotland region makes signpost plea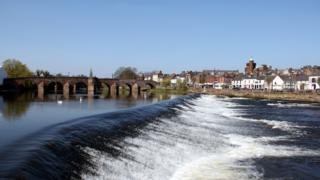 Business owners in southern Scotland have called for better motorway signposting to Dumfries and Galloway and the Scottish Borders.
They have launched a petition because the areas are currently "conspicuously absent" on the M74 and A74(M).
Transport Scotland said it had asked maintenance firms to consider adding new destinations when replacing signs.
The online petition has attracted more than 2,000 supporters since its launch this week.
'Rural economy'
It asks the Scottish government to consider adding "at least one blue road sign" to the motorway to alert drivers to the attractions of Dumfries and Galloway and the Borders.
Bed and breakfast owner Roberson Wellen said the situation was a "constant source of frustration".
Mr Wellen said: "People travelling south could understandably think there is nothing between Glasgow and Carlisle.
"Our south Scotland rural economy depends on tourism and we need the number of visitors to Dumfries and Galloway and the Scottish Borders to increase.
"It has bothered me for years so I thought I would ask some other business owners how they felt.
"They agreed with me so we set up the petition to see if there was any support for new signs."
Fellow petitioner Colin McQueen said they needed to get Dumfries "on the road map".
"It's not right that the road signs south of Glasgow only mention Carlisle," he said.
A Transport Scotland spokesman said: "We understand the importance of tourism to the Scottish economy and the role that Dumfries and Galloway plays in this.
"We have asked that our maintenance companies consider the inclusion of additional destinations when they are replacing signs on the M74.
"Our aim is to have Lockerbie, Dumfries and Gretna included on new signs by the end of the year.
"There are also a number of brown road signs which point road users in the direction of tourist attractions in the area."