Marshal's shock at Jim Clark Rally crash scene video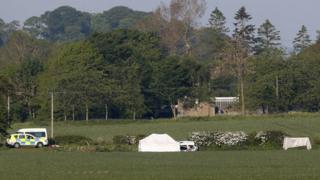 The chief marshal of a rally where three people died seemed shocked when shown a video of the crash scene.
David Brodie told an inquiry in Edinburgh it was the first time he had seen the footage taken after the crash at the 2014 Jim Clark Memorial Rally.
He told the hearing: "No-one, not even marshals, should have been there."
Photographer Iain Provan, 64, his partner Elizabeth Allan, 63, and Len Stern, 71, died when a car lost control at the rally near Coldstream.
The hearing was told the Swinton stage, from before the humpback Leet Water bridge to the East Lodge, was a totally prohibited area.
There were notices on the bridge warning spectators to stay away, the hearing was told.
Advocate depute, Andrew Brown QC, asked Mr Brodie how did he expect marshals to deal with people coming to the bridge from a field.
He replied: "I was unaware there was a path there."
Mr Brodie appeared taken aback when told that two marshals had walked down from the bridge because two men were sitting on the road.
He told the court that when he had been driven past the stage there were no people in the prohibited zone.
The joint inquiry, which continues on Thursday, is also considering the death of Joy Robson at the Snowman Rally, near Inverness, in 2013.