Dumfries and Galloway dementia hub proposal takes shape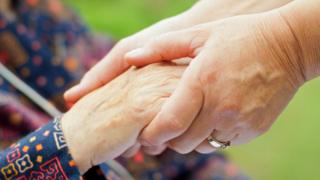 A multi-million pound initiative hopes to enable dementia patients in Dumfries and Galloway to enjoy a good quality of life at home for as long as possible.
Loreburn Housing Association is behind the project to build dementia-friendly accommodation hubs.
Projects have been confirmed at Station Road in Annan and the Garrick Site in Stranraer with others to be announced.
Chief executive Lorraine Usher said that the approach was a first for the United Kingdom.
The facilities will offer "living solutions" such as apartments, bungalows and a care centre to suit a variety of needs.
"We are going to design dementia-friendly accommodation that enables people to live where they have their support networks, where they have the relevant agencies and areas that they are familiar with," she said.
She said they were working with a range of agencies on the project which represented a significant investment.
'Really helpful'
"We have gone to the market to borrow £20m and perhaps more than that should we need to develop some more properties," said Ms Usher.
"We don't want to take people out of their communities and put them, for example, in somewhere that they are not familiar with.
"So we are going to develop a village type environment that we would hope would include things like community cinemas, outdoor gyms, orchards, things that the whole community could enjoy."
She said that would mean that they could become the "hub" of the local area.
Ms Usher said they had looked at examples from around the world to develop the scheme.
"We are very excited about this because we want to invest our money in something that is going to be really, really helpful to help the people of Dumfries and Galloway enjoy a fulfilling and improved quality of life as they age," she added.