Dumbarton, Selkirk and St Johnstone scribes in poetic shootout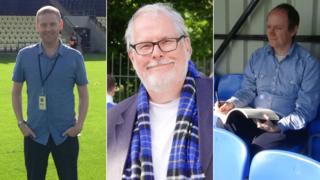 Three poets in residence with Scottish football clubs are set to mix recitation with a penalty shootout in an unusual competition in the Borders.
Selkirk FC's Thomas Clark will go head-to-head with Dumbarton's Stephen Watt and Jim Mackintosh of St Johnstone.
The event is taking place in the village of Stow on Saturday as part of the annual Stowed Out Festival.
It is backed by the Nil By Mouth charity in its efforts to "celebrate the positives of Scottish football".
The Poetry and Penalties Cup will see the three writers recite poems on stage before moving over to a playing field for a "three-way five-kick shootout".
"Each poet has 15 seconds prior to each kick to recite something suitable about the game, the pressures of taking a penalty or the feelings of fans watching shootouts," explained the charity's campaign director Dave Scott.
"The guys will ad-lib some new stuff.
"The winner is one who scores the most - with sudden death if a tie."
Mr Clark has been Selkirk's poet in residence since August 2015 when he spent the season chronicling the ups and downs of life at a Lowland League side.
Mr Watt's work regularly appears in Dumbarton match programmes while Mr Mackintosh was appointed as St Johnstone's official bard in 2016.
He is also the editor of Mind The Time, a collection of football poetry with profits benefiting people with dementia and Alzheimer's across Scotland.
Mr Clark said: "It's fantastic to finally get all three of Scotland's bards together in one place, and there can be no better occasion for that than a bit of friendly competition.
"Every young lad grows up dreaming of lifting the cup, and - let's face it - the Selkirk FC trophy cabinet isn't exactly bursting at the seams.
"But win, lose or draw, it will be an event to remember, and that's what football is all about."
Mr Mackintosh said he had been "training hard" for the challenge.
'Promote poetry'
"This is a not-to-be-missed opportunity to promote poetry, lift St Johnstone's first trophy of the season whilst at the same time demonstrate maturity and experience can overcome the honourable yet exuberant verve of Messrs Clark and Watt, " he said.
Mr Watt said: "The lads should be anxious.
"I've had my four-year-old niece and puppy stand between a pair of training-goalposts, using a Frozen inflatable ball for practice.
"That's how serious I am about winning this."
Mr Scott said they were delighted to be involved in what they believed was a "global first poetry and penalties competition".
"The three poets are all smashing guys and we have been following their work closely over recent years," he said.
"Our charity seeks to use football as a vehicle to bring people together and to remember the things we have in common and this is such a unique way of celebrating the joy the sport can bring to millions of people each weekend."