Flood-hit CatStrand theatre in New Galloway nears funding goal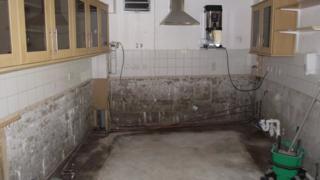 A south of Scotland theatre which has suffered repeated problems with flooding is closing in on a fundraising target for "crucial" protection work.
The campaign at the CatStrand in New Galloway has been backed by Outlander star Sam Heughan who is from the area.
It needs to raise £49,000 to help reroute any water getting round existing defences.
Project co-ordinator Joe Taylor said they had now gathered more than 75% of the support needed.
The Keep CatStrand Dry campaign has until 29 August to reach its final target.
Last month the Outlander actor tweeted his support for the project, calling it a "memorable place" providing a "great creative hub".
Mr Taylor said the work was vital to safeguard the building's future.
"The floods that we have suffered in the past have cost us financially, but have also put our viability for insurance at great risk," he said.
"This work will help to reroute any flood water that makes it through the existing defences around the side of CatStrand and to safe drainage.
"This is crucial because if we get flooded again, we will not be able to obtain the insurance that allows us to function as a crucial service to the community, and CatStrand would have to close down."
He said they had now raised more than £40,000 but were hoping for further support to reach their full target.