Union Chain Bridge funding increase decision reviewed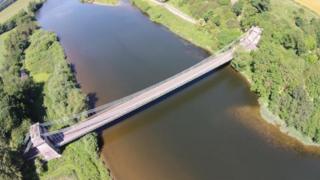 A council decision to increase its contribution to a proposed £7.8m upgrade of a bridge linking Scotland and England has been called in for review.
The local authority in the Borders agreed earlier this month to put £1m towards the Union Chain Bridge project.
It represented an increase of £450,000 on its previous commitment.
However, a councillor has now taken steps to call in that decision amid concerns over value for money.
It will now be reviewed at a special meeting of Scottish Borders Council's audit and scrutiny committee.
The Union Chain Bridge - built in 1820 - crosses the River Tweed from Fishwick in Berwickshire to Horncliffe in Northumberland.
It is hoped an upgrade can be completed in time for its 200th anniversary in 2020.
The council described its £1m investment as an "opportunity - at a reasonably economic cost - to retain it for the future".
The decision has been called in for review by David Paterson who secured the necessary support from fellow councillors to have the move reconsidered.
He said the report and discussion had not made it clear if the expenditure was to retain the bridge as a "roads asset or as a historic asset".
"Is this a vital bridge for the Borders public, or are we doing this for tourists?" he asked.
'No answers'
Mr Paterson also said it was not clear if the increased expenditure represented value for money.
In addition, he has questioned why the money was being used ahead of other schemes in the region.
"There were no answers in the report or the discussion to the question of the priority for funding for this bridge in comparison to other commitments," he said.
"The Borders public need to know why we spend money on this bridge and not fix pot holes or upgrade some roads that are little more than a cattle track."
The council is scheduled to meet to look again at the decision on Monday.