Stranraer farmer raises import concerns over bovine TB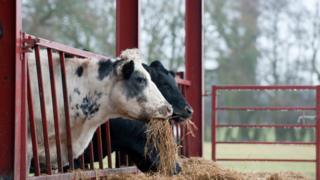 A south west Scotland farmer has called on colleagues to stop importing cheaper cattle into the country amid fears of a spread of bovine tuberculosis.
Hugh Parker, who farms near Stranraer, believes it could cost Scotland its disease-free status.
His call comes after a recent case in a badger in Cumbria sparked fears it could spread across the border.
NFU Scotland president Andrew McCornick said he understood the concerns but said testing was "pretty robust".
Although Scotland has officially been classified as TB-free since 2009, there are still cases.
The designation requires less than a tenth of 1% of herds to have had the condition over the past six years.
Mr Parker told BBC Radio Scotland's John Beattie programme he believed some farmers were putting their own financial concerns ahead of the welfare of the wider farming community.
'Bottom line'
"It is generally to augment their numbers because they haven't been able to breed enough themselves," he said.
"To me they should just pay more attention to breeding replacements in the local area and take care of the health status that we have.
"The people that are doing it know they are putting others at risk.
"I think it is a shame that rather than worry about the bovine health status of our communities they are more concerned about the impact it has on their bottom line."
Mr McCornick, who farms at Lochfoot near Dumfries, said he totally understood Mr Parker's concerns.
"It is a difficult one, but what we have got in place is pretty robust," he said.
"The post-movement and pre-movement testing should be stopping this from coming in.
"But equally, of all the cases we've had in 2015 and 2016, the majority of the incidents were attributed to imported animals.
"We need to be aware that farmers bringing cattle in are bringing a risk element in with them."