Oyster thieves strike in Stranraer ahead of festival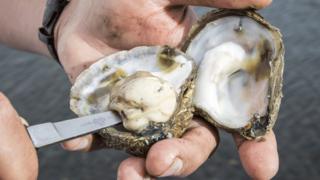 Thieves have stolen more than 2,000 oysters from the shoreline near Stranraer.
The incident happened ahead of a first festival in the area celebrating the fishery in nearby Loch Ryan.
The theft took place some time between 18 and 20 August when seven bags were taken after being collected by the Loch Ryan Oyster Company.
Tristan Hugh-Jones from the firm said it was a "significant blow" for the festival next month.
The first Stranraer Oyster Festival is being held from 15 to 17 September, celebrating the local produce and coastal heritage of the area.
Mr Hugh-Jones said the theft was the most significant he could recall.
"The oysters are stored on the beach but when the tide goes out they are exposed," he said.
"This is certainly the first time it has happened on this scale."
He said the incident would have some impact on the celebrations taking place in a little over a fortnight's time.
"We are absolutely focused on the festival and want it to be an overwhelming success and need to have oysters available for it," he said.
"So we started fishing a little bit earlier and we have been gathering oysters for the festival. These would have been destined for the oyster festival but now obviously we are slightly short."
He described it as a big loss to the company and the event but said they should still have sufficient supplies.
"We certainly hope to have enough for the festival but losing that sort of quantity is a significant blow," he said.
He added that such a large quantity of oysters would stand out if someone tried to sell them on and would also be noticeable without the proper documentation.
'Deeply saddened'
A statement from the festival organisers said they were shocked by the theft and its "callous timing".
"Loch Ryan oysters are unique in being Scotland's only wild, native oysters that are commercially harvested in Scotland," it said.
"Our festival is designed to celebrate and showcase these exquisite shellfish and we are deeply saddened if publicity for the festival, through drawing attention to the unique nature of these oysters, has in any way contributed to the theft.
"Loch Ryan oysters are unmistakable, and we would urge any restaurant offered native oysters without full documentation to report it to the authorities."
It added that they were determined the theft would "in no way diminish" the festival.