Galloway Viking hoard campaign hits funding landmark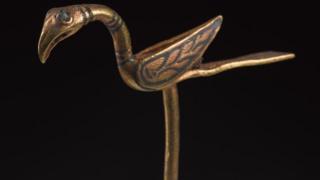 A major donation has taken a £2m campaign to house the Galloway Viking hoard at the National Museum of Scotland to its halfway mark.
The Art Fund has agreed to make a contribution of £400,000.
National Museums Scotland (NMS) has a little more than two months left to reach its funding goal with £200,000 needed via a public appeal.
Director, Dr Gordon Rintoul, said they had been delighted with the response so far but they still had some way to go.
"With just two months left to raise the necessary funds we are appealing to the public to help us secure this exceptional treasure and enable as many people as possible to enjoy it now and in the future," he said.
The Galloway Viking hoard was discovered in south west Scotland in 2014 and both Dumfries and Galloway Council and NMS made bids to provide it with a permanent home.
It was ultimately allocated to NMS but it was given six months to raise the money needed to "save the hoard for the nation".
Art Fund director, Dr Stephen Deuchar, said: "The Galloway hoard will fundamentally shift our understanding of Viking-age Scotland, and shine new light on connections between Scotland and its European neighbours.
"We're delighted to be supporting NMS as they endeavour to raise the funds necessary to save this peerless hoard, and to be contributing to its acquisition.
"I encourage the public to do all it can to support the campaign to keep this extraordinary collection in Scotland, its perfect home."