Senior rally official tells inquiry he would have stopped stage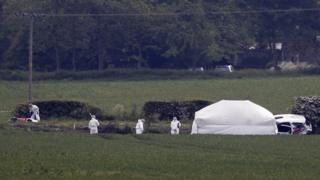 A senior official has told an inquiry he would have stopped a stage where a fatal crash occurred if he had known how many people were at the roadside.
Lock Horsburgh was a stage commander on the section of the Jim Clark Rally near Coldstream where a car left the road killing three people.
He was giving evidence to an ongoing hearing at Edinburgh Sheriff Court.
Iain Provan, 64, Elizabeth Allan, 63, and Len Stern, 71, died at the event in the Borders in 2014.
Mr Horsburgh also told the fatal accident inquiry that there had been a big change in safety at Scottish rallies since the accident.
The Clerk of the course told the inquiry that the Swinton stage had been an accident blackspot for several years.
No notice
Russell Blood, 55, told Sheriff Kenneth Maciver QC, that he learned that spectators had been struck by a car after coming over the Leet Water humpback bridge.
Advocate depute, Andrew Brown QC, asked him: "You knew this was an accident black spot, the most dangerous part of the course, what was your reaction when this happened?"
"I was shocked" he said. "Did you know there were spectators at this point?". "No".
The court had heard that there should have been a notice saying the area, where the crash occurred, was a prohibited zone and no-one should have been there, but that there had been no notice or taping to warn people not to come to the spot through a field.
The Advocate depute asked if the organisers planned to hold the rally again.
Mr Blood said they had hoped to run it this year, but: "It was deemed to be uninsurable".
Sheriff Maciver asked: "Is this because of the compensation culture?" "Yes" was the reply.
The joint inquiry, which started in July, is also considering the death of Joy Robson at the Snowman Rally, near Inverness, in 2013.