Beat the Street game lands in Dumfries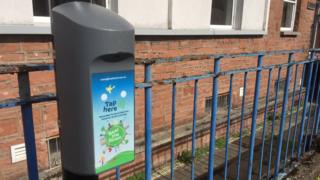 I like to think I know the streets of Dumfries pretty well but, over the last few days, they have changed.
At various spots around the town, little boxes have been appearing on lampposts urging you to Beat the Street.
We notice this kind of thing in a small town, so I couldn't help but sign up via the website to take part.
Only after I had done so did I really start to look about what was involved in the six-week mass participation "game" which has reached south west Scotland.
It has already been here, of course, with similar projects in Annan, Dalbeattie and Stranraer.
Now Doonhamers are being encouraged to take part in the project which aims to get the whole community to take more exercise.
It involves walking, running or cycling between the electronic boxes scattered around the town, checking in with special cards or fobs.
Local schools will use the challenge to compete against each other with hundreds of pounds of sports and fitness equipment up for grabs.
Organisers say it is for everyone - "individuals, schools, workplaces, community groups and families" - so I decided to give it a go.
Map in hand, I set out across the streets where I grew up but looking at them in a slightly different light.
Where was the nearest Beat Box and how quickly could I get from one to another to rack up points?
People looked at me a little strangely, I think, with a map needed to get around the town I have lived in most of my life.
But without it I could have wandered for quite some time without finding somewhere to swipe my card.
My first port of call was the top of the High Street with another one located at the opposite end - simple enough, you would think.
However, if you're not entirely sure what you're looking for and where to find it you can - as I did - walk straight past a Beat Box.
No problem, though, I redirected myself to George Street and while others went about their daily business, I tapped my second box.
It makes a satisfying ping as the lights flash in recognition of your efforts.
I was getting a taste for it by now - two Beat Boxes down, just 45 to go.
I backtracked to find the one I missed on the High Street and swept round past English Street to gather some further points outside Dumfries and Galloway Council headquarters.
All of which got me out of the office, a bit of fresh air and a bit of exercise.
In the meantime, my daughter sent me an excited message to show me her card for the scheme - so it has created a bit of buzz in this family at least.
I met one fellow Beat the Streeter while out on my travels, but hopefully there will be more between now and 11 October.
I've got 30 points and 1.5 miles under my belt already which might not be earth-shattering but it's more than I would have had if the project had not come to town.
After all, every journey has to start with a first step.