Young mountain bike riders offered chance to hone emergency skills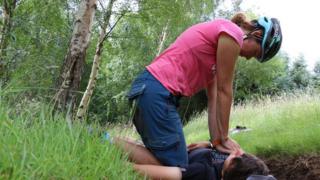 Two special emergency skills sessions are being offered to young mountain bike riders in the Borders.
They come after a 10-year-old boy's skull was saved by his helmet at Glentress earlier this summer.
Tweed Valley Mountain Rescue Team and First Aid Borders are offering the "informative and interactive" advice.
They said that would allow talented young riders to prepare better when they wanted to tackle more challenging terrain.
TVMRT's Neil Jackson said: "We are amazed at the talent and fitness of young riders in the Borders, and across Scotland.
"However we do feel that many young people just aren't aware of how to effectively prepare for their rides and how to manage themselves, and others in their group, in the case of an emergency.
"We don't feel it is the young person's fault or negligence but rather they just need to be involved in sessions that inform them of good practice."
He said the sessions at the Mountain Bike Centre of Scotland at Glentress near Innerleithen on 25 September and 2 October would help them deal with anything going wrong on a ride.
Graeme McLean, project manager of Developing Mountain Biking in Scotland, added: "We are delighted to be hosting these sessions as they tie in perfectly with the advice which we provide in our Do The Ride Thing guidance.
"We see the benefits of mountain biking on young people's physical and mental health and we want to do everything possible to ensure that such a positive activity for young people is as safe as possible."