Visitor numbers surge at historic Dumfries and Galloway sites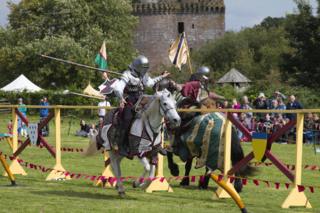 Historic sites across Dumfries and Galloway have seen a surge in visitor numbers this year.
Figures were up 41% between April and July compared with the same period last year.
Historic Environment Scotland looks after 37 properties in the region which have welcomed nearly 43,000 visitors over the four-month period.
Culture Secretary Fiona Hyslop said the sites were a "magnet for tourists" drawn to these "exceptional places".
Last month Caerlaverock Castle hosted a special jousting day which attracted more than 3,500 visitors during the Year of History, Heritage and Archaeology.
Ms Hyslop announced the overall increase in visitor figures while visiting the site.
"This year we celebrate the richness of Scotland's history, impressive cultural heritage and fascinating archaeology, which, as these figures show are a real attraction in the modern world," she said.
"As custodians of these prized sites, HES has an impressive programme of maintenance, restoration and promotional activity that are vital to ensure these historically important sites are available for generations to come.
"We want to support businesses involved in our tourism industry to make the most of the opportunities these sites create, ensuring they are sustainable and make a positive impact on the environment, society and economy."
Stephen Duncan, director of commercial and tourism at HES, said it was delighted with the rise in figures.
"We are committed to investing in our properties as they are vital contributors to the local economy, while continuing to draw visitors from around the world who are fascinated to learn more about Scotland's rich history and heritage," he said.
HES site visitor numbers April to July
Site
2017
2016
%age increase/decrease
Caerlaverock Castle
20,027
15,991
+25%
Cardoness Castle
3,087
2,532
+22%
Dundrennan Abbey
1,914
1,990
-4%
Glenluce Abbey
612
579
+6%
MacLellans Castle
1,807
2,874
-37% (affected by ongoing conservation work)
New Abbey Corn Mill
2,467
1,878
+31%
Sweetheart Abbey
4,337
3,752
+16%
Threave Castle
8,479
687
+1134% (affected by nesting peregrine falcons)
HES site total
42,730
30,283
+41%