First conviction under new 'revenge porn' law in Scotland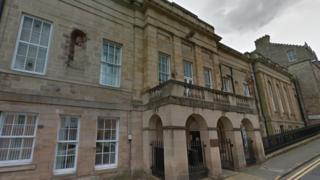 A man has been ordered to pay his victim £200 in compensation after the first conviction under a new law to crack down on so-called "revenge porn".
Kenneth Robinson, 59, of Blyth in Northumberland, threatened to upload a video of a former partner to the internet.
He had previously pled guilty at Jedburgh Sheriff Court.
He was also given a three-year long order banning him from approaching or contacting his victim.
She called in the police about emails which were sent to her home in the Borders.
It resulted in the first conviction under section 2(1) of the Abusive Behaviour and Sexual Harm (Scotland) Act 2016 since the section came into force on 3 July.
Anne Marie Hicks, national procurator fiscal for domestic abuse, said: "This conviction under the new legislation sends a clear message that behaviour like this is unacceptable and that those who disclose or threaten to disclose intimate images will be dealt with seriously by the criminal justice system.
"This type of offending is often used as a form of online domestic abuse.
"It is designed to cause fear, alarm or distress and often used to humiliate, threaten and control the victim."
'Provide reassurance'
She said that victims could be "too embarrassed to come forward" or fear they would be blamed.
"I hope the prosecution and outcome in this case will provide reassurance to victims and that they will have greater confidence to report cases," she added.
"This type of offending is never acceptable and victims are in no way responsible just because they may have consented to an image being taken."
She said the Crown Office would work closely with police and other agencies to tackle "all forms of abuse".
Defence lawyer Ed Hulme told Jedburgh Sheriff Court his client had committed the offence after a relationship had broken down.
He said: "He turned to alcohol to cope and has little recollection about the emails."
Mr Hulme insisted Robinson would not have uploaded the video on the internet saying he did not know how to do so.
He added that the video no longer existed.
Sheriff Peter Paterson said he took into account Robinson's previous character and ordered him to pay compensation as well as imposing the non-harassment order.