'No kids' pub The Bridge Inn in Peebles wins top award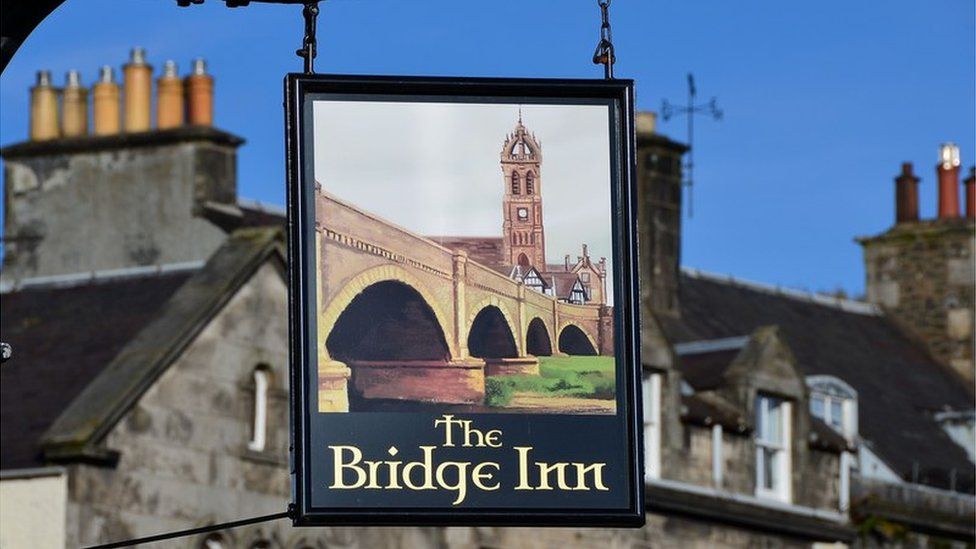 A Borders pub which does not admit children has been voted best in Scotland by the Campaign for Real Ale (Camra).
The Bridge Inn in Peebles was recognised as a "cheerful, welcoming, single-roomed town-centre local".
Assistant manager Gregor Grant said the fact that children were not admitted was an attraction for some customers.
He said it meant they would not be "distracted" while trying to enjoy their pint.
He told BBC Radio Scotland's Call Kaye programme they had been delighted to receive the award.
"It is absolutely incredible - we are absolutely over the moon," he said.
He described the pub - also known as the Trust - as one of the smallest in Peebles with a "miniscule" capacity but a large beer garden.
Mr Grant said the fact they did not admit children had not caused them any problems.
"A lot of people that come into the pub know they are not going to be disturbed by children," he said.
"I think it is more an adult playground for them.
"People do accept it and we recommend pubs in Peebles for them to go to with kids."
Marshall Bain, president of the Scottish Licensed Trade Association, congratulated the pub on its award.
"Connoisseurs of real ale want to savour their pint in a traditional local and they don't want the distraction of the smell of food, of children playing," he said.
"There is a buoyant market for that area.
"Whilst most pubs and restaurants and hotels now accept children as the norm there is definitely a market still there for a traditional, old-fashioned pub."
He added: "All licensed premises have had to move with the times, the times have changed.
"But there still is that market for people who just want to go in and savour their pint."
Related Internet Links
The BBC is not responsible for the content of external sites.