Rail extension among key Scottish Borders Council goals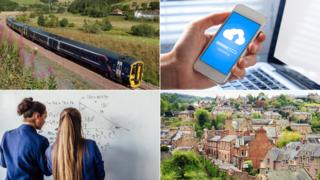 The administration of Scottish Borders Council has unveiled its five-year vision for the future of the region.
It includes the ambition of seeing the Borders Railway extended to Hawick and beyond, with proposals developed to take the line to Carlisle.
Improved broadband, better business investment and helping to diversify town centres are other key goals.
The document, developed by the Conservative and independent coalition, covers the period from 2017 to 2022.
The report, called Connected Borders, contains a wide range of goals for the local authority.
They include:
The delivery of a new railway station at Reston in Berwickshire
"Significant" road improvements across the region
Ensuring that a new South of Scotland Enterprise Agency supports new and existing businesses
Helping companies to flourish in town centres
Taking a "whole community approach" to education
Working with police to tackle substance abuse
Developing "patient pathways" for the elderly
"As administration councillors we are excited about what the next five years hold for the Borders," the report said.
"There are significant amounts of investment on the horizon to develop our economic base, to build new industries and provide new opportunities.
"Our communities have the skills, ambitions and sense of purpose to lead the Scottish Borders into the future."
The report added that the next few years could deliver economic growth, sustainable development and build communities into "strong, energetic towns and villages".