Storm Frank flood barriers in place in Peebles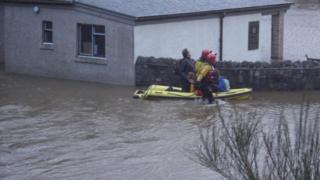 Homes and businesses which had to be abandoned by some residents for up to six months due to Storm Frank have been given new flood protection.
Dozens of properties in the Tweed Green, Tweed Avenue and Walkershaugh areas in Peebles were affected.
A number of residents were forced to leave their homes in December 2015.
The Scottish government provided Scottish Borders Council with £2.4m to deal with the aftermath and part of that has been spent in Peebles.
The local authority created the £280,000 Peebles Property Level Protection Scheme (PLVP) which has now resulted in 37 homes affected by Storm Frank receiving protection.
The scheme is an interim measure, with the council currently undertaking a flood study for the area.
Gordon Edgar, SBC's executive member for roads and infrastructure, said: "Storm Frank was a traumatic experience for many residents in the Tweed Green, Tweed Avenue and Walkershaugh area of Peebles, with the flooding some of the worst ever seen in the town.
"Huge damage was caused but the PLVP scheme will increase the resilience of these properties, allowing them to recover more quickly from future flood events.
"A resilient communities group was recently formed in Peebles and we have provided similar equipment to the group's volunteers so if a flooding emergency occurs again, the community can work together and help each other out."
Environment Secretary Roseanna Cunningham said she was pleased to see the measures being put in place.
"Storm Frank caused devastation across the country so I am pleased that Scottish government funding will help properties in the Borders recover from the impact of these floods and make them better-prepared for the future," she said.