Former rally champion Jock Armstrong given 'mooning' ban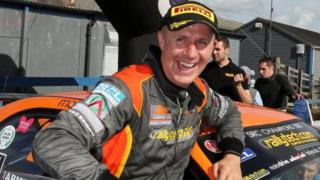 Former Scottish rally champion Jock Armstrong has been banned from the sport for six months for "mooning".
The 47-year-old was marshalling at the Solway Coast Rally near Kirkcudbright when he was caught on camera dropping his shorts.
As well as the ban, the driver from Castle Douglas, was fined £1,000 by the Motor Sports Council national court.
Mr Armstrong said he was not going to appeal against his suspension which rules him out for two events.
The south of Scotland driver was Scottish champion in 2015 and 2016 and finished runner-up this year.
He said the incident was a prank which had gone wrong.
'Slow speed'
"The picture was put on social media by a photographer and whether someone alerted them or not I don't know," he said.
"They said they picked it up and that it brought the sport into disrepute."
He will now miss two rounds of next year's Scottish championship.
Mr Armstrong said he had been about 30 to 40 metres from a passing car when he had been caught on camera.
"The car was coming down at a slow speed but he didn't even see me," he said.
"But I admitted to the MSA that it was me.
"I told him to send a copy of the picture and I'd put it up in my workshop for years to come."
'Risk of danger'
A spokesman for the Solway Car Club which runs the Solway Coast Rally described the incident as "a bit unfortunate".
"The event was run by us and it was just a prank that went wrong," he said.
"It was put on media and the Motor Sports Association thought it was bringing the sport into disrepute."
The Motor Sports Council national court said his behaviour had been "highly detrimental" to the sport and had created a "real risk of danger".
It said his actions could not be excused and that, as a marshal, he was "under a duty to promote safety rather than to cause any risk to anyone".
It said such offences had to incur "substantial penalties" and suspended Mr Armstrong's competition licence for six months and fined him £1,000.