Borders Book Festival in Melrose sees economic impact grow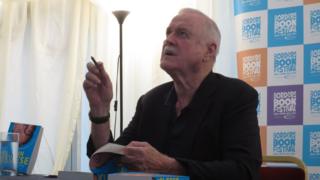 The economic impact of the Borders Book Festival in Melrose has been estimated at £2.3m this year.
It represents an increase of nearly 30% on 2016 for the four-day event.
Earlier this year it was confirmed that the festival had broken previous records for ticket sales and attendances.
Director and founder Alistair Moffat said that from "very small beginnings" 13 years ago the event had now "blossomed" in the region.
"It clearly injects a massive amount of economic activity into the Borders and that is good for jobs and businesses," he said.
"But just as important, it also enriches our lives beyond anything I could have imagined.
"It sprinkles stardust on us all. John Cleese, Jennifer Saunders and Joanna Lumley and many other international stars have joined writers of unrivalled brilliance such as Hilary Mantel, Melvyn Bragg and Frederick Forsyth."
'Glorious weekend'
Director Paula Ogilvie said the festival embraced "all sorts of groups and interests".
"Our offering has been deliberately diverse from the very beginning with artists such as Evelyn Glennie, politicians like Gordon Brown and Nick Clegg alongside the Walter Scott Prize for historical fiction," she said.
"In addition we organise a family book festival, a schools gala day, free outdoor family entertainment, a street market for local producers and a food and drink village.
"There is something for everyone.
"We were also able to welcome even more visitors this year, with increased venue sizes, a great range of food and drink offerings and many people taking advantage of the glorious weekend sunshine to relax and enjoy the festival buzz."