Boy crushed by wooden pole in Kelloholm identified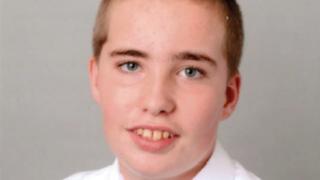 A 12-year-old boy who was crushed to death by a heavy wooden pole as he played with friends has been named by police.
Keiran Esquierdo died at the scene of the accident in his home village of Kelloholm, in Dumfries and Galloway.
Emergency services were called to open ground near to the medical centre on Corserig Crescent on Sunday afternoon.
Det Insp Bryan Lee said investigations were continuing and the procurator fiscal had been informed.
A Police Scotland spokesman said they found the boy trapped under the pole but, despite efforts to free him, he could not be saved.
Insp Rory Caldow told BBC Scotland that initial indications suggested he had been playing with friends when the accident happened.
He said the incident would have a big impact on the community.
"You can appreciate this has really been a tragedy," he added.
"The kids raised the alarm at a nearby neighbours and they were really, really upset by what had happened.
"It's devastating to the family and to the community as a whole.
"The kids are off the school at the moment and I'm sure the victim will be well known to everyone in this small community town of Kelloholm."
He added that an investigation into the incident is continuing.
Officers described the object as "similar to a telegraph pole".