Pennine Way walker rescued on final leg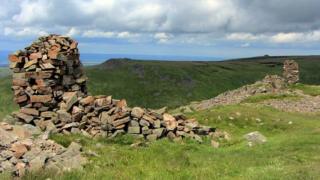 A walker had to be rescued on the Pennine Way after getting injured on the final leg of her 268-mile journey.
Border Search and Rescue Unit was called out to assist as the remnants of Hurricane Ophelia were about to hit Scotland on Monday.
The 38-year-old woman was stranded in a refuge hut after slipping while descending Auchope Cairn.
She was unable to walk after spraining her ankle but was taken to safety before conditions deteriorated.
The BSARU team made its way to Sourhope Farm south of Kirk Yetholm in the Scottish Borders where farmer Rob Flintoff helped ferry them to the hut.
'Simply unlucky'
Team leader Stuart Fuller-Shapcott said: "The lady was clearly competent and had completed more than 90% of her walk when she had her accident.
"It's a pretty steep bit of ground coming off Auchope Cairn, with loose rocks and tussocks, and she was simply unlucky.
"She did well to reach the safety of the refuge hut, and we're glad she made the call when she did."
He added that she had been lucky to be rescued on Monday morning before the worst weather hit.
"A few additional hours' delay could have meant our having to evacuate her either by stretcher or helicopter, which in the storm that blew up in the afternoon would have been a much more serious undertaking," he said.