Public plea over Borders General Hospital norovirus outbreak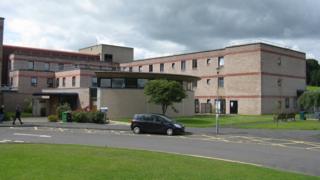 The public is being asked to "carefully consider" any visits to the Borders General Hospital amid a norovirus outbreak.
A number of wards continue to be affected by the bug which was first reported on Monday.
People have been advised to stay away from the hospital if they or anyone in their family has had symptoms in the previous 48 hours.
Scheduled appointments are not affected and should be attended as normal.
Medical director Dr Cliff Sharp said the bug could affect the ability of staff to move patients around the hospital.
"Norovirus is one of the most common causes of diarrhoea and vomiting illness," he said.
"It is very infectious and spreads quickly between people.
"In order to minimise any potential impact on the BGH over the weekend, and to help prevent you being exposed to the virus please carefully consider your visit and comply with any instructions you are given by staff or you see on signs at the entrances to wards."
He also reminded people only to visit the A&E department for genuine emergencies.