Poor shoppers 'paying highest prices'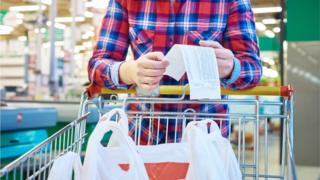 A study of grocery prices in the south of Scotland has found poorer, rural communities are often charged the highest prices by retailers.
Citizens Advice compared the cost of 11 essentials, including bread, milk and cheese and found prices could triple depending on the purchase area.
The study also found that nappies and tampons had some of the largest price differences and were often unavailable.
Stranraer had the cheapest prices, while Dalbeattie had the highest.
The basket of goods was found to cost just £8.79 in Stranraer, but £24.70 in Dalbeattie.
The Dumfries and Galloway Citizens Advice Service (D&GCAS), which used volunteers to shop for the cheapest staples available across the region, claimed that the same retailers were often charging different prices for the same item in different towns.
Pricing policies
They asked their volunteers to buy baked beans, bananas, bread, cheese, diluting juice, ham, milk, nappies, spread, tampons and teabags from 33 different stores across 16 communities.
The group said Tesco charged £9.53 for the basket of goods in Lockerbie, but charged £17.16 for the goods at its store in Castle Douglas.
Similar disparities were also found in branches of Lidl, Morrisons, Aldi and the Co-op, D&GCAS said.
However, a spokesman for Tesco disputed the findings, saying it had a nationwide pricing policy that meant prices were exactly the same in Lockerbie as they were in Castle Douglas.
A Co-op spokesperson also disputed the findings. "The survey does not offer a like-for-like comparison on products or brands. It is like comparing apples with pears and discredits the findings of the report.
"We always aim to offer value to our customers and our own-brand goods provide members with a 5% reward which gives cash back to shoppers - something not reflected in the survey.
"Our ongoing price investment strategy on fresh food and essentials helps to lower the cost of everyday products at our stores which are in every postal area and are open long hours for the convenience of our customers."
'Treating customers fairly'
D&GCAS said it would be writing to the companies involved for an explanation of their pricing policies.
Sue Irving, from the organisation, said the results of the study followed similar findings in 2014.
She added: "Overall the research finds that the price variations we first uncovered three years ago still exist, and indeed in many ways have got worse.
"Clearly our evidence suggests that people could make savings by shopping around, but the size and geography of our region makes that difficult, particularly for those on low incomes and those reliant on public transport.
"Shops are an important part of any local community, particularly those in smaller rural towns and villages like those across Dumfries and Galloway.
"We understand that transportation costs are a concern for all businesses, but we ask that the supermarket chains will reflect on the data we have published today and ensure that they are treating customers fairly."
John Lee, head of policy at the Scottish Grocers Federation, said prices often reflected the challenges faced by smaller businesses from the larger retailers.
He added: "There is huge competitive pressure on independent stores at the moment from the big supermarkets and from the discounters.
"Additionally, they will not have the same level of footfall a big supermarket has. So they may have to charge a very slightly higher price on a basket of goods to ensure they stay in business and can continue to be an important asset to the community."