Galashiels farmer crowned river 'champion'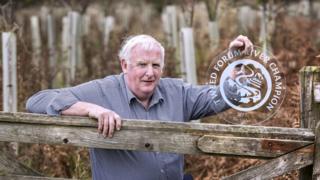 A farmer has been recognised for his "outstanding commitment" to the River Tweed's protection and enhancement.
Jim Sinclair, from Galashiels, was honoured for his efforts to integrate farming, forestry and conservation.
He is the second recipient of the Tweed Forum River Champion Award set up last year.
Mr Sinclair said he was "surprised and delighted" to win the prize. Organisers praised his "truly outstanding contribution" to flood protection.
Mr Sinclair is one of a number of land managers who have been introducing natural flood management techniques to reduce problems during heavy rainfall.
With the endorsement of landowner, Lord Borthwick, he has planted more than 52 hectares of native woodland near the Gala Water.
Four ponds have also been created and fencing put in place.
The work has improved the habitat for a number of species and also helped salmon production in the area which is estimated to be worth £24m a year to the local economy.
Tweed Forum chairman, James Hepburne Scott, said: "The protection and conservation of the Tweed and the area surrounding it relies on the dedication and foresight of a host of people and organisations.
"We'd like to thank Jim, and others like him, who work so hard for all our benefit."
'Future generations'
Mr Sinclair said the work had benefited both the farm and flood protection.
"We recognise that this is just one small element in the management of the river catchment," he said.
"But we're proud of the work we've done and hope it encourages others to think about how they can better manage the land and waterways in and around the Tweed for current and future generations."
The Tweed Forum River Champion is chosen from nominations received from the public and from groups and organisations involved in the management of the river on both sides of the Scotland-England border.
The award's first recipient in 2016 was octogenarian Frank Turnbull from Coldstream.