South of Scotland economic partnership takes shape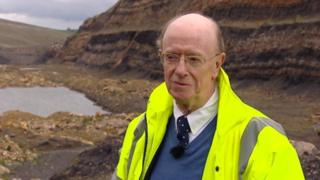 Two key appointments have been made to a body aimed at boosting business in Dumfries and Galloway and the Borders.
Prof Russel Griggs will chair the new interim South of Scotland Economic Partnership (SOSEP) with Rob Dickson working as its lead officer.
Economy Secretary Keith Brown said the organisation would be up and running by the end of the year.
It will pave the way for a full South of Scotland Enterprise Agency for the area.
Mr Brown said he was pleased that two "talented and influential individuals" would be steering the work of SOSEP.
Prof Griggs said he was delighted to take up the new role.
'Economic challenges'
"It's an exciting time to be in the area," he said.
"While I do not underestimate the economic challenges we need to tackle over the next couple of years, I am confident that we have the ambition and commitment to succeed.
"After all we have a lot to build on."
Mr Dickson also welcomed his appointment.
"We will be able to try out different approaches that will contribute to the area's prosperity and also help to put in place the right building blocks for the new agency," he said.
"The partnership will bring together the private and public sectors to ensure they are better aligned, working together and focusing hard on delivering priorities to benefit the south of Scotland."