Tweedbank innovation park promises hundreds of jobs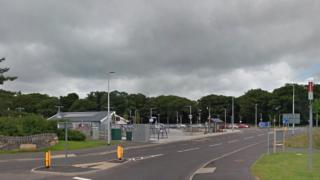 Plans for an innovation park to "maximise the economic impact" of the Borders Railway could create hundreds of jobs, it has been claimed.
Councillors have agreed to take forward the Tweedbank plans to attract new businesses while existing ones expand.
An independent report in 2013 said office space near the Borders Railway terminus could create up to 350 jobs.
The project is seen as a vital part of building upon the impact of the return of trains to the region.
Mark Rowley, Scottish Borders Council's executive member for business and economic development, described it as an "exciting opportunity" for the area.
"This in an attractive location with excellent transport links, and which benefits from assisted area status, which means businesses can receive grants for eligible business development," he said.
'Positive impact'
He said the council would now develop a business case for the project and aim to finalise funding arrangements.
"By building on the success of the Borders Railway and maximising its positive impact on the local economy we can strengthen the case for expansion of the railway to Hawick and beyond," he said.
"As such this project is not only important for the central Borders but the wider area too."
Councillors have also agreed to adopt a Simplified Planning Zone (SPZ) for Tweedbank which speeds up the planning process.
Tom Miers, SBC's executive member for planning and environment, said: "The SPZ will make it faster and easier for inward investors to develop their business in the innovation park.
"With a package of other measures the innovation park is becoming a very attractive prospect for businesses looking to relocate or grow."