Toad check call over Glentress Forest development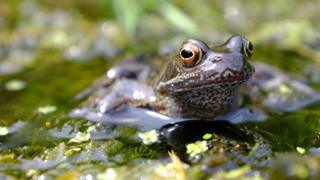 Early morning checks and relocation of frogs, toads and newts have been recommended during work on an £11m tourism expansion in a Borders forest.
An application has been submitted for 56 eco-cabins and 10 miles (16km) of new trails at Glentress.
It has been estimated the investment could generate an extra £1m a year and create up to 60 jobs.
However, an amphibian survey has recommended special efforts to protect any creatures found in the area.
No evidence of great crested newts - a European protected species - was found at the site near Peebles but common toads, common frogs and palmate newts were discovered.
A report said all amphibians were protected "to some degree" and measures should be taken to avoid harming them.
It recommended that during any work on the site, checks should be undertaken first thing in the morning for the presence of amphibians.
It said any that were found should be caught by hand and "carefully relocated" to a suitable habitat outside of the area of the work.
The planning application for the project is currently with Scottish Borders Council.
It will decide whether the scheme - a partnership between Forest Enterprise Scotland and Forest Holidays - can proceed.