MSP Michelle Ballantyne resigns from Scottish Borders Council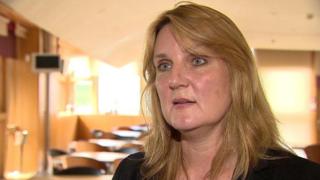 A south of Scotland Conservative MSP has resigned from her role as a councillor in the Scottish Borders.
Michelle Ballantyne said she felt the "time was right" to step down to focus on her work in the Scottish Parliament.
She took up the seat vacated by fellow Conservative Rachael Hamilton, who quit to fight a constituency seat which she subsequently won.
Ms Ballantyne's resignation will prompt a by-election in the Selkirkshire ward on Scottish Borders Council.
She had previously indicated she intended to resign her seat on the local authority "at some point" in the future.
"I have genuinely loved being a councillor and I hope that I have served Selkirkshire well," she said.
"I was honoured to be given your trust again at the last election and it is with sadness that I have made the decision to resign.
"Rather than let you down I feel it is time to stand aside and let someone else who can give the role the attention it needs take over."
She said it had been a "fascinating, busy, but ultimately rewarding job" and one she would highly recommend to anyone who loved their community and was willing to "take on the challenge of trying to make things better".