Dumfries revels in ice hockey role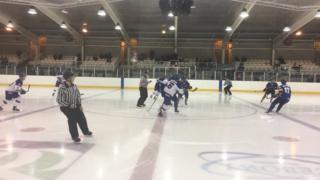 Some of ice hockey's rising stars have congregated in south west Scotland for a major competition.
It is the sixth successive year that Dumfries and Galloway has hosted an elite level tournament.
This time it is a section of the men's Under 20 World Championships featuring Great Britain, Korea, Estonia, Japan, Netherlands and Romania.
Councillor Adam Wilson said the event at Dumfries Ice Bowl was an "exciting prospect" for sports fans.
It is the latest in a string of top level ice hockey competitions to be held in the town.
They have been estimated to generate tens of thousands of pounds for the local economy thanks to teams and coaches using accommodation in the area.
Back in 2012, the Ice Bowl was host to the women's Under 18 world championship qualifying matches.
Since then it has staged a number of other events.
"Ice hockey is alive and well in Dumfries and past tournaments have really boosted the profile and participation numbers in the sport - I'm sure this Under 20s World Championship will be no different," said Mr Wilson.
Two players with Dumfries-based Solway Sharks - Stuart Kerr and Jordan Buesa - are part of the Team GB squad along with coach Martin Grubb who is also part of the set-up.
The tournament runs from 10 to 16 December.