Dumfries secondary school transfer options weighed up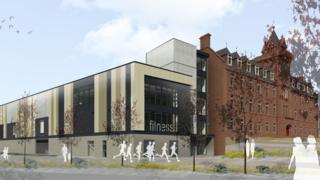 Dumfries and Galloway Council has said it is still looking at how and when to move pupils back into a refurbished secondary school after a £24m overhaul.
St Joseph's College in Dumfries was scheduled to be completed in February next year.
However, it is understood a move might not now happen until around the Easter holidays in April.
In a statement the council said it was still weighing up options but did not give a date for when it would happen.
"Following the successful transfer of staff and pupils to Dalbeattie Learning Campus, we're currently considering the best way to achieve transfer of staff and pupils to the refurbished St Joseph's College," it said.
The upgrade of the secondary school is part of phase one of the Dumfries Learning Town Project.
Pupils are currently in temporary classrooms on the site but are expected to move back into their old school early next year.
Meanwhile, work is ongoing on a new campus to replace Maxwelltown High School in the town and an educational "hub" near Cuckoo Bridge.
Last month it was revealed the second phase of the multi-million pound schools overhaul was being held up while a financial package was put in place.