Assurances offered over infection rate in Dumfries and Galloway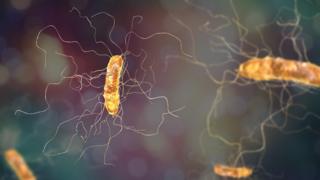 NHS Dumfries and Galloway has said a marked increase in the potentially deadly infection, Clostridium difficile (C. diff), does not signal an outbreak.
A total of 46 cases have been recorded in the region in the first seven months of this financial year.
That is already more than the total for the whole of 2016/17.
The trend has been subject to detailed analysis to look for patterns and any links to antibiotic use which can leave people vulnerable to the infection.
Nurse director Eddie Docherty said they were keeping a close eye on the situation.
'Potential impact'
"With these types of infection it is always a concern and we are aware of it and we are monitoring it," he said.
"Do I think it is a strong concern for either the hospital or the community? Probably not - I don't think patients are at risk because of what is going on.
"We are keen to just keep monitoring and minimising any potential impact."
He added that he believed there had been "significant progress" in identifying "key themes" causing the number of cases of the infection.
'Cause analysis'
He said one issue which had fuelled the increase had been a number of repeated cases in one patient.
And he added: "We are starting from a nationally recognised low baseline, so small numbers then show a big shift.
"But for each patient it is a significant impact so we do treat it extremely seriously.
"Hence the reason that for every patient we do a root cause analysis."