Engraved £5 makes thousands for charity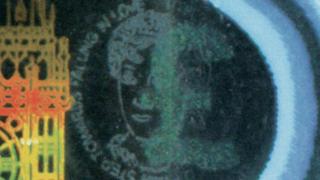 A £5 note engraved with a tiny portrait of Jane Austen has raised more than 1,000 times its face value for charity.
It was one of four fivers put into circulation by Birmingham-born artist Graham Short in a project with the Tony Huggins-Haig Gallery in the Borders.
The note, found in Northern Ireland, was returned to the gallery with an anonymous hand-written letter saying the finder did not need the money.
It has now sold at auction raising £6,000 for Children in Need.
The four notes, valued at thousands of pounds, were put into circulation last year - one each in Scotland, England, Wales and Northern Ireland - to help take art to a wider audience.
They have all met different fates with one still undiscovered.
However, the one found by a woman while visiting Enniskillen in County Fermanagh was sent back to the gallery in Kelso with a note attached.
It read: "£5 note enclosed, I don't need it at my time of life. Please use it to help young people, kindest regards J…".
Both Mr Short and Mr Huggins-Haig agreed the best way forward was to give it to a charity "known for helping young people of any and all walks of life".
It has now raised thousands of pounds at auction in London.
James Morton of auctioneers Morton & Eden said: "We are delighted that this unique £5 note has fetched such a substantial amount of money which will be used in accordance with the finder's wishes."
The auctioneers will not be charging a seller's commission and will also donate the equivalent of the buyer's premium to the charity.