Police drafted in to unruly Hawick school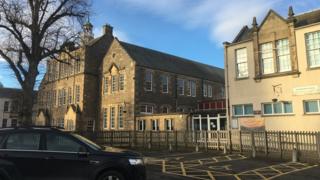 Police officers have been patroling the corridors of a school in the Scottish Borders after a surge in antisocial behaviour.
A "zero tolerance" action plan was drawn up after a spate of incidents in recent months at Hawick High School.
One local councillor said staff at the school had faced abuse but the problems involved a "small minority" of youths.
The local council the plan had already resulted in an improvement in the school environment.
A Scottish Borders Council spokesperson said school and council along with Police Scotland had been "working closely over the past two weeks to implement an action plan to tackle recent anti-social behaviour displayed by a very small minority of pupils in the school and wider community and implement a zero-tolerance approach."
In a letter issued last week, Donna Manson, Scottish Borders Council's service director for children and young people, sought to reassure parents.
She said: "From time to time there is some poor behaviour displayed by a minority of pupils, both within the school campus and in the local community.
"I am aware that there have been concerns voiced on social media regarding some anti-social behaviour in the school and wish to reassure you that, in close partnership with the police, social work and youth workers, we are making rapid progress in eliminating this unacceptable behaviour."
"This involves the support of local police, on and off the school campus, and close engagement with families where appropriate."
Stuart Marshall, a councillor on Scottish Borders Council, said the last few weeks had been a "very worrying time" for pupils, staff and parents.
"They have had to deal with a very small minority of youths who have been causing antisocial behaviour," he said.
"The police were called in to remove one of the pupils a couple of weeks ago. The council are now working flat out with various parties to try and resolve the issues.
"I received information yesterday that normality has been restored at the school but there will be a lot of work being done behind the scenes."
'Shocked' community
Mr Marshall said there would be an enhanced police presence in the school both outside and in the corridors - with police officers also "engaging" with pupils themselves.
More than 50 parents attended a parent teacher council meeting last week to discuss a wider range of measures being drawn up.
Mr Marshall added: "We are very proud of Hawick High School - it has a great track record. It has shocked the community that they are having to deal with incidents like this."
Police Scotland said it had been alerted to "a number of issues relating to the conduct and actions of a small number of pupils" at the school.
Insp Carol Wood said: "To address these issues, officers have been deployed to the school and will engage with staff and pupils on a daily basis to deter offences and assure that any matters which arise are suitably dealt with."